Fiberless & Wireless (FiWi) Recording System - NOT AVAILABLE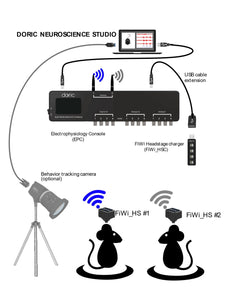 *** IMPORTANT NOTE ***
Due to a manufacturing issue, we can not deliver this system for the moment.  We work to resolve the situation as soon as possible.

The behavior studies assume the "freely-moving" or "freely behaving" status of the tethered lab animals despite limitations to their movement imposed by fiber or wire tether. The FiWi Recording System removes those restrictions. Its main components are an optoelectric cannula with LED attached to an optical fiber and four recording electrodes, the wireless headstage*, and a corresponding electrophysiology console. The positions of wire and fiber tips of the optoelectric cannulas are customized to fit required recording and illuminating brain areas.


This system includes: Customized FiWi Cannula, sold separately.


*REFERENCE: A Wireless Optogenetic Headstage with Multichannel Electrophysiological Recording Capability, Gagnon-Turcotte
G, et al., Sensors 2015, 15(9), 22776-22797.
choosing a selection results in a full page refresh