Rotary Fiber Photometry System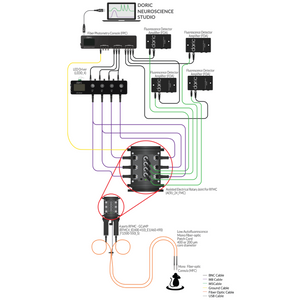 Fluorescence recording of freely moving tethered lab animals is challenging for neuroscience researchers due to rotary joints' transmission losses and motion-related signal variation. A Fluorescence Mini Cube with integrated LEDs mounted on an adapted 24-channel Assisted Electrical Rotary Joint rotor increases the system's overall transmission and removes motion-related artifacts.


A central hole or lumen on the rotary joint can pass an optical fiber for optogenetics stimulation or/and a tube for liquid delivery.
On request, the fluorescence Mini Cube can be adapted to other light sources, such as laser diodes and to different fluorophore combinations.





choosing a selection results in a full page refresh