Rotary Bundle-imaging Fluorescence Photometry System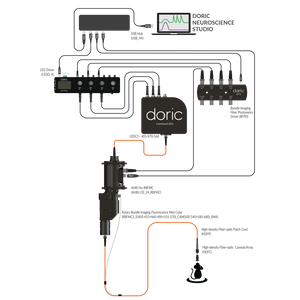 Conventional photodiode-based fiber photometry recordings of multiple brain sites on one behaving tethered animal require an entire recording setup for each fiber location. That includes the need for fiber optic rotary joint with independent optical channels.

So far, only 2 independent channels rotary joints are available. CMOS-based Rotary Bundle-imaging fiber photometry is an elegant alternative for multiple site recording setups. The Rotary Bundle-imaging Fluorescence Mini Cube incorporates a motorized rotary joint that senses the torsion of the optical tether during animal movement and turns the cube accordingly. The assisted rotary joint counters the friction of the internal slip-ring and provides quality transfer of optical and electrical signals during experiments with freely-moving animals like mice or rats.

The whole system resembles a fluorescence microscope with a fiber bundle end face at its focal plane. The individual fibers on the other end of the fiber bundle are fitted to implanted cannulas in selected animals' brain locations. The fluorescent light from each fiber within a bundle creates a distinct circular spot on CMOS. Since CMOS detector rotates with the fiber bundle, the electrical read-out from pixels within those spots correlates with the calcium activity of the corresponding brain site and is not affected by rotation artifacts.
The GCaMP with Red Fluorophore Rotary Bundle-imaging Fiber Photometry System contains all items necessary to perform fiber photometry measurements on a large number of sites with GFP-like fluorophores. It also measures the isosbestic excitation of GCaMP fluorescence and collects the red fluorescence on the same sensor. The fluorescence resulting from different excitations are demodulated by sequential acquisition.

The system includes:

4-port USB3.0 Hub
Photometry Rack for RBFPS
All required electrical cables and patch cord


Optional items:
Accessories:
The GCaMP with Opto 590 nm Rotary Bundle-imaging Fiber Photometry System contains all items necessary to perform fiber photometry measurements on a large number of sites with GFP-like fluorophores. It also measures the isosbestic excitation of GCaMP fluorescence and collects the green fluorescence on the same sensor. The fluorescence resulting from different excitations are demodulated by sequential acquisition.
This system is also equipped to deliver the illumination for the yellow opsin at 590 nm.


The system includes: 

LISER and LED470 light source
4-ports USB3.0 Hub
Photometry Rack for RBFPS
All required electrical cables


Optional items:
Accessories:

The GCaMP with Red Fluorophore and 638 nm Red Opsin Rotary Bundle-imaging Fiber Photometry System contains all items necessary to perform fiber photometry measurements on a large number of sites with GFP-like fluorophores. It also measures the isosbestic excitation of GCaMP fluorescence and collects the red fluorescence on the same sensor. The fluorescence resulting from different excitation are demodulated by sequential acquisition. 
The system is also equipped to deliver the illumination for the Red opsin at 638nm.

The system includes: 

Combined LEDs and LD (405,465,560 LED + 635 LD)
4-ports USB3.0 Hub
Photometry Rack for RBFPS
All required electrical cables


Optional items:
Accessories:

   Field of view

Ø1.25 mm

Maximum number of sites
* exact number of sites could be limited by patchcord manufacturing
- 7x core 400 µm NA0.57
- 19x core 200 µm NA0.57
- 90x core 100 µm NA0.37
   Excitation Uniformity
 10% over FOV
   Sensor

High sensitivity CMOS image sensor

   Connectivity
USB2.0 port on the computer
SMA optical fiber bundle patch cords with adjustable focus (manual)
   Digital I/O

3 x Input or programmable outputs 5 V TTL

   Sampling Rate
3 to 20 Hz interleaved 3 excitations
up to 60 Hz for single wavelength excitation
   Software

Doric Neuroscience Studio V6 and higher
choosing a selection results in a full page refresh